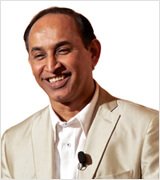 (International Advisors)
Dr Ajit Kulkarni Dr Kulkarni is an immensely successful homeopath and a great contributor to advancement of homeopathy. He is an expert panel doctor at Welcomecure which is an online homeopathic health portal that caters to serve people and relieve them of their illnesses with Homeopathy. Welcomecure has a panel of doctors who are internationally acclaimed and have many years of successful clinical experiences.
Dr Ajit Kulkarni M.D. (Hom.) is Director, Homeopathic Research Institute, Pune, A veteran homoeopath, an academician and a famed international teacher. A classical Homeopathic physician, he has been practising for 35 years. He has given over 100 international seminars and workshops in different parts of the world.
Dr. Ajit Kulkarni - A veteran homoeopath, a renowned academician and famous international teacher, is known for his massive contribution to homoeopathy. His expertise in treating psychosomatic disorders like anxiety, depression etc.
He solves his cases with a scientific approach and with great efficiency. Here is an example of one such case which he presented at the International seminar at Moscow. A female, aged 59 years, obese, and diabetic since last 7 years. Her other complaints were frequent urination, chronic acidity, osteoarthritis and chronic cough. Blood reports were as follows: Fasting Blood Sugar: 232 mg/dL, Post prandial Blood sugar: 278 mg/dl.
The lady was a housewife, she was cross with everyone, did not listen to anyone, did not observe dietetic restrictions or any exercise. She was very sarcastic and often abusive, she had a sharp tongue. Based on her sarcastic, acrid behaviour and other totality of symptoms, she was prescribed Lactic acid and the improvement was observed at all levels including the blood reports in the case over a period of 2-3 years.

Please not that Homeopathy medicine is prescribed after a thorough case taking and analysis by an expert doctor. Self medication is not advisable and may prove harmful.
Dr. Kulkarni is co-author: Absolute Homoeopathic Matera Medica, Five Regional Repertories: AIDS, DM, Thyroid, HTN and Trauma . Also, author of Body Language and Homeopathy, Homeopathy through Harmony and Totality (Three volumes), Law of Similars in Medical Science, Homeopathic Posology, Kali Family and Its Relations, Homeopathic Covidoscope (published by Amazon) and over 100 publications on various aspects of homeopathy, papers and books translated in several languages, He has Award of 'Excellence in Homoeopathy, Award of 'Homoeo-Ratna, Life achievement Award, Dr. B. Sahni Memorial Award., He is a member, Editorial Board, National Journal of Homeopathy, Mumbai.