Dr Farokh J. Master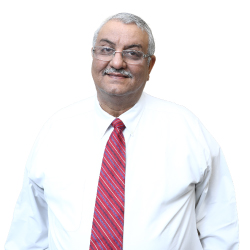 Dr Farokh J. Master
(Chief Editor)
Dr. Master's introduction into homeopathy was in the year June 1976, when he joined Bombay Homeopathic Medical College, after giving up his studies at the orthodox school of medicine. In December 1979, Dr. Master passed his LCEH examination, with a 1st class in all subjects, in all the years, getting the most coveted silver as well as gold medal. He was also honoured by the then Governor of Maharashtra for an outstanding medical career.
About Dr Farokh J. Master
In January 1980, he joined the homeopathic college as a junior lecturer in the department of medicine. He balanced these duties with a full-time post of House Physician and eventually Administrative Medical Officer. Gradually, Dr. Master started giving seminars all over India and eventually became one of the most popular teachers in the country. In 1986, Dr. Master was appointed as the professor in the department of medicine, at the age 29 years. In 1985, he came across his first opportunity to teach abroad, which he continues till today.
In 1991, Dr. Master, joined MPK Homeopathic Medical College in Jaipur, Rajasthan, and completed his Doctor of Medicine in December 1994. He was the student with the highest graduation results and at the same time became the country's first M.D. Homeopath. Dr. Master is also one of the first few homeopaths to have successfully completed his PhD in "Cancer Management using Homeopathy".
Dr Master has been instrumental in starting homeopathic out-patient departments in many allopathic hospitals viz. Bombay Hospital, King Edward Memorial Hospital, Nowrosjee Wadia Hospital, Jerbai Wadia Hospital & Kamalnayan Bajaj Cancer Centre – Ruby Hall Clinic, Pune.
In private and government sectors Dr Master has been the first person to introduce homeopathy as part of the mainstream treatment. The important organizations among them are Tata Sons, ACC, BARC, Nuclear Cooperation of India, Indian Navy, etc.
Besides his work as a senior Homeopath of the HHC, Dr. Farokh Master is teaching homeopathy (advanced level) at the Mumbai Homeopathic Medical College which is a part of Mumbai university. He is also teaching at other homeopathic colleges in India and abroad. He has given seminars in various countries like Austria, Australia, Bangladesh, Belgium, Bosnia & Herzegovina, Brazil, Bulgaria, Canada, Columbia, Cyprus, Czech Republic, Denmark, England, Finland, France, Germany, Greece, Hungary, Ireland, Israel, Italy, Japan, Latvia, Malaysia, Mexico, Norway, Poland, Russia, Serbia, Singapore, Slovak Republic, South Africa, Spain, Sweden, Switzerland, The Netherland, Thailand, Turkey, UAE, USA. Due to his outstanding medical career, at present Dr. Farokh Master is the only Homoeopathic physician M.D. (Hom.) consulting at Asia's largest allopathic Hospital (viz. Mumbai Hospital, Institute of Medical Sciences, which is also attached to Mumbai University).
Dr. Farokh Master, over a period of years, has been known to develop treatment for many acute and chronic neurological illnesses especially in the field of cerebrovascular accidents like cerebral thrombosis, infarcts, embolism and subarachnoid haemorrhage.
In terminal cases of cancer and in the treatment of various complications of malignancy, Dr. Master has pioneered the use of Iscador therapy with homoeopathy, leading to pain relief, reducing haemorrhage and increasing the periods of remission.
Dr. Master is the originator of many recent new approaches and insights in homoeopathy. Although these ideas can often be very helpful to find the correct remedy in certain cases, he underlines the fact that, to have success, no one can do without a thorough understanding of traditional homeopathic philosophy and an extensive materia medica study.
Teaching Experience
WITHIN INDIA
Bombay Homoeopathic Medical College, Department of Internal Medicine University
Junior Lecturer – Aug. 1980
Lecturer – Feb. 1982
Asst. Professor – Aug. 1987
Professor – June 1989
Visiting Professor at various medical Colleges, Jaipur, Delhi, Calcutta, Saurashtra, Rajasthan, Trivandrum Universities
Conducted diploma course for Homoeopathic doctors at Bombay Hospital in subject of Critical Care Medicine
OTHER COUNTRIES
Hon. Visiting Professor of Homoeopathy
Hahnemann College of Homoeopathy (U.K.)
Classical College of Homoeopathy (U.K.)
London College of Homoeopathy (U.K.)
Practical College of Homoeopathy (U.K.)
Regents College of Homoeopathy (U.K.)
Purton College of Homoeopathy (U.K.)
Hahnemann College of Homoeopathy (Los Angeles)
Hahnemann College of Homoeopathy (Ryerson University, Toronto, Canada)
International Academy of Homoeopathy (York University, Toronto, Canada)
Slovak Society of Homoeopathy (Bratislava University, Slovakia)
Osterrichsche Gesellschaft Fur Homoeopathische Medizin (Austria)
Magyar Homoeopata Orvosi Egyesulet (Hungary)
Small Poland Homoeopathic Physicians Association, (Krakow Poland)
Norsk Akademi for Naturmedisin (Oslo Norway)
Greek Homoeopathic Doctors Association, (Theasaloniki, Greece)
Cyprus Homoeopathic Doctors Association (Nicossia, Cyprus)
Malaysian Homoeopathic Doctors Association, (Kuala Lampur, Malaysia)
Nederlandse Vereniging van Klassiek Homeopaten (Netherlands)
Homoeopathic Forum, Munich (Germany)
Homoeopathic Forum, Gauting (Germany)
Honours & Recognitions
First Indian to be honoured with the title "Master of Homoeopathy" by Aaron Kenneth Ward Atherton, Lord of Witley Hurcott, Chief Patron on September 26, 2008, At the Cholmondeley Room, House of Lords, UK.
First Indian to introduce Homeopathy in Allopathic Modern Hospitals and Private Sectors viz. Bombay Hospital, KEM Hospital, Ruby Hall Hospital and Private Sector viz. Tata Group of Companies, Associated Cement Companies, Bhabha Atomic Research Center, Nuclear Corporation of India and Times Group.
First Indian to be appreciated by handwritten letter from Mr. Charles Tankard Hahnemann, the 6th generation from the family of Dr. Samuel Hahnemann, the founder of homoeopathy in August 2007.
Honorary Doctorate in Homoeopathy awarded by Pioneer University, UK in April 2006
First Indian to be recognized and appreciated for his contribution in Homoeopathy by Homeopatas Puros, A.C. Escuela Homeopatas Puros, Guadalajara, Mexico in 2004.
Certificate of Merit awarded by Dr. Michael Lorenz in recognition of Homeopathic Health Centre as an important centre for Iscador Therapy in India in September 1997.
Certificate of Recognition for contribution in the field of Homoeopathy was presented by International Academy of Homoeopathy and Ontario Homoeopathic Doctors Association on 18th October 1995.
First doctor from India to become Fellow of United Kingdom Homoeopathic Doctors Association in 1993.
First doctor from India to pass successfully the post graduate course of studies in the principles and practice of Homoeopathic Medicine held in the year 1991.
Awards
Fellow, Registered Counsel of Homeopathy, UK, 2007
Gold Medal for First M.D. of the Country By Hahnemann Foundation, Bombay in January 2000
Gold Medal for standing First Class First in M.D By Hahnemann Foundation, Bombay, November 1999.
Doctor of Medicine from University of Rajasthan. Passed M.D. in Aug.1994. Got distinction. Stood First Class Firstin the University. Got highest marks in all principle and subsidiary subjects.
Post Graduation Completed and qualified the Post Graduate Course of studies in the Principles and Practice of Homoeopathic Medicine held in the year 1991 from Hahnemann Postgraduate Institute of Homoeopathy, London, October 1991.
Fellow, The U.K. Homoeopathic Medical Association, 13 May 1990
Certificate Course. Completed Certificate Course in Iscador Therapy and Anthroposophical Medicine from Lukas Klinik, Arlesheim, Switzerland in1985 and since then, regularly going to upgrade the recent advances in Iscador Therapy.
Felicitated with Medal at Birla Kreda Kendra, Chowpatty, Girgaon, Bombay, by his Excellency Shri Sadiq Ali, the Governor of Maharashtra in 1980 for outstanding medical career, standing first class first in all the years from Bombay and Pune in final examinations of II L.C.E.H. III L.C.E.H. part I II.
Awarded Dr. Dadiba Banaji Gold Medal for securing highest aggregate marks in III L.C.E.H. Part I II, Lions Club of Juhu Cash Prize for Surgery, Dr. S. R. Wadia Silver Medal for securing highest marks in Homoeopathic Materia Medica in January 1980.
Awarded Dr. S. R. Wadia Proficiency Silver Medal for securing highest marks in Homoeopathic Materia Medica in January 1980.
Licenciate affliliated to the court of examiners in Homeopathy from Bombay Homeopathic Medical College, Mumbai; (1976 – 1980)
III L.C.E.H. Part II (Jan.1979 to Jan.1980) Stood First Class First from Bombay and Poona, got distinction in Internal Medicine, General Surgery and Homoeopathic Materia Medica.
III L.C.E.H. Part I (Jan. 1978 to Dec. 1978) Stood First Class First from Bombay and Poona, got distinction in General Pathology, Bacteriology, Parasitology and Virology.
II L.C.E.H. (June 1976 to Dec. 1977) Stood First Class First from Bombay and Poona, distinction Human Physiology.
Inter Science Examination from K C College, Dinshaw Vatcha Road, Churchgate, Mumbai in 1976. (Secured 58 %) with Physics, Chemistry Biology
S.S.C. Examination from Bharda New High School, Waudby Road, Mumbai in 1974. (Secured 58 %) and Distinction in General Science