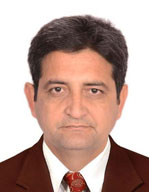 (Associate Editor)
Dr. Hitarth Mehta - Being a medical professional that participates in Rajkot's healthfulness, Dr. Hitarth Mehta (rated 5 on NiceLocal.in) offers such assistance to its locals in the area of alternative medicine.
Brief About Dr. Hitarth Mehta: Dr. Hitarth N. Mehta, Principal Rajkot Homoeopathic Medical College, Rajkot is well known in Homoeopathic fraternity not only in Gujarat state but in other state because of his vast administrative experience as H.O.D. in the department of Practice of Medicine and Hospital Incharge Since 2009.
He also has the honor of being invited as an expert by the Devpriya Charitable Trust sponsored by Government of India in 2004 Paper Presentation on Allergic disorder in National conference of Homoeopathy at Udaipur 2010. on dated 20.03.2010.
Radio talk Akashvani Rajkot on dated 07.05.2013. Efficacy of Homoeopathy in Pediatrics Disorders.
As an administrator he started his carrier as Demonstrator and Tutor at Rajkot Homoeopathic Medical College from dated 01.10.1997 and with the reputation of remarkable administration capacity, he is continuing in same carder till now. Under his leadership the institution has got the credit of Permanent affiliation from Saurashtra University, accredited by NAAC and cover under 2F and 12B UGC.
Under his guidance and leadership the institution stands in first line in Academic, Co curricular & extracurricular activities in the state.