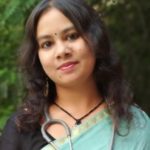 (In-House Editor)
Dr. Rashi Prakash, SME- Homeopathy at BJain Group of Companies is an experienced professional with BHMS (DU), PGDS & MBA(HA) degrees in her accord. She is associated with reputed multispecialty hospitals and NGOs. Presented with the Shaurya Puraskar for academic excellence, she is an avid writer with multiple publications in reputed journals and an influential orator who has given several talks and podcasts.
Brief About Editor: Dr. Rashi Prakash, currently working as SME- Homeopathy at BJain Group of Companies is a passionate homeopath, an avid blogger and writer. She has been keenly interested in blogging, editing and writing from a very young age and her passion for print media is reflected by several awards that she received from Times of India and other reputed organizations of the field for oration and writing reports, articles and short stories. On the basis of an outstanding academic performance, she has been felicitated with the reputed 'Shaurya Puraskar' and Prashasti Patra at National level ((Awarded to only 10 students from all over India) by Directorate of Education and Bharat Vikas Parishad respectively; Laureate Certificate, Pratibha Puraskaar and Certificate of Merit (National Level Awards) by DAV Organization, Delhi Sanskrit Academy and CBSE respectively.
Her journey in the field of homeopathy as a doctor began ten years back after she graduated from Delhi University. After BHMS, she completed MBA in hospital administration and Post Graduate Diploma in Sexology which helped her work with reputed NGOs in Delhi and some in other states of India as physician as well as sex educator. She has successfully diagnosed and treated many cases of sexual health problems in men and women, adolescents and children with homeopathy alongside general acute and chronic cases.
Soon after completing education, besides job in reputed multispecialty hospitals of Delhi like Banarsidas Chandiwala Institute Of medical Sciences, Ashwini Healthcare and Mata Gujri Society for Medical Aid and Research as physician, in the Department of Homeopathy, her keen interest in writing articles brought her to write and publish articles on Homeopathy in sexual health, Homeopathy in Covid 19, Significance of Dreams in Homeopathy and on various other topics in the journals of homeopathy published by reputed organizations of the field like the South Delhi Homeopathic Association and those which were associated with other medical fields such as Shakuntala Devi Multi Therapy Foundation and the NHI Dialogue, the quarterly journal of National Heart Institute, a reputed multispecialty hospital in Delhi with branches pan India and abroad.
Dr. Rashi Prakash has worked as medical doctor and sexuality educator for different DAV schools of the reputed DAV organization in Delhi. Besides being an accomplished homeopath, Dr. Rashi Prakash holds a keen interest in blogging and regularly publishes blogs for common public. Being an influential speaker, she has delivered several talks on topics of sexual health like podcasts on Masturbation with RJ Adhiraj on Scenes- a community platform for people across the world, on women's health, lifestyle problems like PCOS on forums of different organizations working in the field such as Toshita Transformations, on spiritual health and homeopathy in GTB hospital for Shakuntala Devi Multi Therapy Foundation, and on Medical negligence in Homeopathy for cancer with The Homeopathic Academy, BJainRx.
Work Experience
• Medical Officer, Dept. Of Alternate Medicine, Banarasidas Chandiwala Institute of Medical Sciences, Delhi– May 2014- August 2014
• General Physician, Dept of Homeopathy Ashwini Healthcare Hospital, Noida- Sept 2014- Sept 2015
• General Physician, Dept of Homeopathy, Dr. Sundarlal Memorial Hospital- Sept 2015- Sept 2017
• General Physician, Dept of Homeopathy & Sexologist, Jampur Wellness Centre- August 2015- March 2018
• General Physician, Dept of Homeopathy & Sexologist, Mata Gujri Society for Medical Aid & Research- Sept 2016-August 2019
• Medical Doctor, DAV Organization- July 2017- August 2019
DAV Public School, East of Kailash
DAV Public School, Masjid Moth
NGOs
• Sri Adwait Swarupanand Satsang Mission
• Servants of the People Society
• Kesar Kamla Charitable Trust
• Shakuntala Devi Multi Therapy Foundation
• Jampur Charitable Association
• Helpage India (Volunteer)
• Literacy Drives of many NGOs (Volunteer)

Honours & Recognitions
• Shaurya Puraskar, National Level, Directorate of Education for academic excellence (Awarded to only 10 students from all over India)
• Prashasti Patra, Bharat Vikas Parishad for Academic Excellence
• Laureate Certificate for Academic Excellence by DAV Managing Commitee
• Merit Certificates for Outstanding Academic Performance by CBSE
• Scholarship awarded for achieving 100% in Sanskrit Board Exams by DAV Organization
• 'Times Of India Young Reporter' title and trophies awarded for multiple articles published in Times of India
• Sanskrit Pratibha Puraskar from Delhi Sanskrit Academy for outstanding performace (securing 100% in CBSE Boards) in Sanskrit
• President, Interact Club, School Rotary Club
• Volunteer in several National Pulse Polio Programmes during tenure as Rotary Club President
• Volunteer in educating Homeopathic Pharmacy to students under NIOS Programme of UGC
• A cover Story on academic journey of Dr. Rashi (after being awarded Shaurya Puraskar) was published in Educare, Career Launcher

Publications & Media
• Homeopathy & Health' in annual magazine Dynamis, NHMC, DU
• 'Spiritual Health & Homeopathy' in annual magazine Dynamis, NHMC, DU
• Talk on Spiritual Health & Homeopathy in GTB Hospital for Shakuntala Devi Multi Therapy Foundation
• 'Management of Fluid & Electrolyte Imbalance' in annual souvenir of Shakuntala Devi Multi Therapy Foundation
• Talk on 'PCOS and its management with lifestyle modification and Homeopathy' delivered to an audience of 400-450 women for Toshita Transformations Pvt. Ltd
• Talk on 'Sexual Health & Masturbation' with RJ Adhiraj on Scenes, a global platform (podcast)
• 'Significance of Dreams in Homeopathy' published in SDHA Chronicle, Annual Souvenir of South Delhi Homeopathic Association
• 'Significance of Dreams in Homeopathy' (Revised) published in Homeopathy 360
• 'The Subconscious Symphony' published in SDHA Chronicle, Annual Souvenir of South Delhi Homeopathic Association
• Talk on 'Sexual Health & Hygiene: Sex Done the Right Way' for an audience of 350 women (pan India) with Toshita Transformations
• 'Are We Dealing It Right: Covid 19' published in NHI Dialogue (Co- Authored with Dr. Sumit Mukerji), Quarterly Journal, National Heart Institute
• Talk on 'Homeopathy in Post Treatment Effects of Childhood Cancer' highlighting the area with a possibility of Medical Negligence with The Homeopathic Academy, BJain Rx
• Several articles in School Times, Times of India