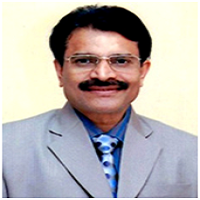 (International Advisors)
He is the recipient of Dr.Mahendra Singh's Best Administrator award in the year 2013 and a special award for publishing PG Medical result within 3 days of completion of examination by the Medical Fraternity in the year 2016.
Brief About Editor: Prof. Dr P.K Sudhir is a leading academician and an efficient administrator with ample experience of about 28years. He is the Controller of Examinations of Kerala University of Health Sciences since 2011.He was born on 10th February 1964 in Calicut, Kerala and did his BHMS & MD (Hom) from Govt. Homoeopathic Medical College, Calicut under the University of Calicut. .
After completing his education he served at Fr. Muller's Homoeopathic Medical College Mangalore since 1990 in various positions which includes Tutor, Asst. Professor and Reader. Then he joined as Director and Professor & Head of the Department of Materia Medica in Vinayaka Mission Homoeopathic Medical College, Salem, Tamilnadu in 1998.Then he became the Principal of Vinayaka Mission Homoeopathic Medical College in 2001 and continued the post till 2011.Incidentally he became the first resident MD (Hom)in India in the year 1995 and became instrumental in moulding the first Homoeopathic Specialists in the subjects of Medicine, Paediatrics and Psychiatry from Vinayaka Mission University, Salem while serving as the Principal in the year 2005.
He served as a member of Central Council of Homoeopathy (CCH) in two terms from 2006.He represented various Universities in India as a Board of Studies Member, Faculty Member, Dean and Senate Member. He is a NABH Assessor and Faculty since 2010.He has co-authored a book on diabetes mellitus published by Central Council of Research in Homoeopathy(CCRH).He has presented various scientific papers in National and International seminars. His articles and papers have been published in different scientific journals.
As the Controller of Examinations in Kerala University of Health Sciences, he is heading the examination system in 282 colleges i.e. 33 Medical Colleges, 25 Dental Colleges,119 Nursing colleges,5 Homoeopathic Medical Colleges,17 Ayurveda Medical Colleges,1 Siddha Medical College,1 Unani Medical College,41 Pharmacy colleges,40 Allied Health Sciences Colleges.He has introduced many reforms in examination system like online transmission of Question Papers to examination centres, Double valuation for all UG courses and Multiple valuation for all PG courses, Installing CCTV Surveillance in examination halls etc. first in the state of Kerala.Considering the exemplary performance he has been re-appointed as the Controller of Examination for one more term in 2016.He is the first Homoeopath in the country to become a Controller of Examinations in a Medical University.